Cajamarca
Resort type:

City resort

Landscape:

Town, Mountains

What to do:

Mountaineering, Cycling, Culinary Tourism, Mountain Trails, Ancient Monuments of Civilization, Horse Riding, Wellness Tourism, Historical & Architectural Monuments, Hiking, Thermal & Mineral Springs, Festivals & Carnivals, Shopping, Nightlife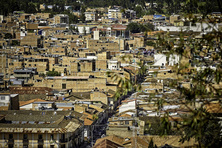 Cajamarca is a capital city of the Cajamarca Region in Peru. It is situated in the north of the country 2.700 meters above the sea level.
The city is a true paradise for all those who love to explore the monuments of ancient civilisations. It is believed that the epoch of the Inca Empire ended here in Cajamarca. The tourists can visit an ancient city Cumbemayo which is 19 kilometres away from Cajamarca. Cumbemayo preserved the ruins of the aqueduct which was built in 1.500 B.C. The tourists can also go to the stone woods which was formed from volcanic rock. There is one more archaeological monument known as Kuntur Wasi. It consists of stone sculptures and household buildings.
A hallmark sight of Cajamarca is Cathedral of Cajamarca. We also recommend visiting San Francisco Monastery.
A picturesque nature attracts the active tourists who can try hiking, trekking, walking, biking, horseback riding, and climbing.
Those who prefer the wellness tourism should not miss a chance to bathe in a hot spring Banos del Inca and then refresh yourself in the Laguna San Nicolas. Hiking routes are arranged in Cataratas Chorro Blanco.
The event tourism is supported here due to the Cajamarca Carnival, which takes place in February and March.
At the Central Market of Cajamarca, one can always buy the freshest products. The works by local artists and handmade souvenirs are sold at the Casa-museo Nicolas Puga. The restaurant Heladeria Holanda serves the dishes of the Peruvian cuisine. In Restaurante Salas, you can try the South-American dishes. In Myshky Cafe, they make very delicious coffee. At night you can go to a club McCuy's and enjoy their exciting show.