Queenstown
Resort type:

Country resort

Landscape:

Cove, Mountains, Valley, Lakes, Riverside, Coniferous Forest

What to do:

Cycling, Downhill Skiing, Natural Parks & Reserves, Carting & ATVs, Horse Riding, Boat Trips, Hiking, Sport Tourism, Rafting & Kayaking, Fishing & Spearfishing, Snowboarding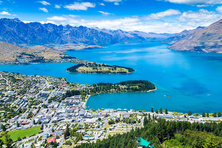 Queenstown is a world acknowledged centre of the extreme tourism and a dream destination for many people. The city is situated in the southwest of the South Island in New Zealand. Being close to the Queenstown Bay of the Wakatipu Lake and surrounded by the Southern Alps, Queenstown attracts the fans of the ecological and excursion tourism.
Stunning landscapes of this resort mesmerize the tourists. The tourists will visit Milford Sound and Doubtful Sound fjords.
Thanks to high peaks and a long-lasting snow cover, Queenstown became a popular ski resort. Such alpine skiing centres as Remarkables Skifield, Ski Link Queenstown and Snowpark NZ offer everyone excellent conditions for alpine skiing, cross-skiing, snowboarding, free riding.
Holidays in Queenstown is a dream of any extreme tourist. This resort offers a unique chance to feel a rush of adrenaline. The tourists can try bungee jumping, zorbing or sliding down the hill inside a transparent plastic orb or, if you have guts, try a thrilling ride known as Luge. Heli-rafting, Shotover river, rafting, tubing and canoeing are also extreme enough.
The active tourists will not get bored in Queenstown. The tourists can go mountain trekking, climbing, mountain biking, canyoning and abseiling. Riding a plane, a helicopter or a hot-air balloon above the city is really breathtaking. You can also go biking, hiking, horseback riding, riding Segways or four-wheelers. Anyone can explore the underwater world of the Wakatipu Lake or go fishing.
Queenstown is a starting point for the all the excursion tours around the southwest coast of the island. Do not limit yourself to seeing the New Zealand sights, but visit the indigenous people of this country. Maori are very hospitable and sincerely happy to see the tourists.