Andermatt
Resort type:

Ski resort

Landscape:

Mountains

What to do:

Mountaineering, Downhill Skiing, Mountain Trails, Hiking, Snowboarding, SPA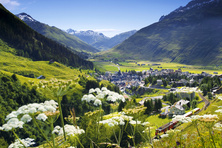 Andermatt is a mountain village and a resort in Switzerland, Canton of Uri. It is situated in the north of the Saint Gotthard Pass.
Andermatt attracts the lovers of winter activities and mountain skiing. The resort is more oriented towards the professional skiers. The total length of the ski run is 70 kilometres. And only 15 kilometres suit for the beginners in skiing. The ski trails of average difficulty are 36 kilometres. The length of the so-called "black" trails suitable only for the professionals is 19 kilometres. The most difficult is the Russi run on the top of Gemsstock.
Freeriders will not be bored as well. Every year, the resort holds a Freestyle Championship the King of the Mountain. For those who prefer cross-country skiing, there is a run at a height of 1.447 meters. The beginners can learn skiing at a school the Alpine Sports Andermatt. There are special slopes for snowboarders. The active tourists can try ice climbing and climbing, go sledging or snow-shoeing, and skating.
There are two cable ways for the skiers, three T-bar lifts, and four chairlifts. The tourists can also relax in a sauna, train in a gym, swim in a swimming pool, go to a spa-salon, restaurant, disco or a nightclub.
If you come to Andermatt in summer, you can go hiking.12 kilometres away from Andermatt, in the Schollenen Gorge, there is the Devil's Bridge or Teufelsbrucke as the locals call it. In 1799, this bridge witnessed one of the most dramatic battles of Suvorov's Italian and Swiss expedition. In the memory of this expedition, a monument to this military leader was carved in the rock.
In the village, there is a museum the Talmuseum Usern which in the past was a headquarter of Suvorov. In Andermatt, there are two old churches and the Mariahilf Chapel. The tourists can ride across the Furkapass.
The Restaurant at the Chedi Andermatt offers the Asian and European cuisine. In Baern, the tourists will try the dishes of the Italian cuisine. The Gasthaus zum Sternen offers German dishes. The tourists can have a fun time all the night long at the Dancing Gotthard.