Kentucky
Resort type:

City resort

Landscape:

Swamp, Mountains, Broadleaf Forest, Lakes, Plain, Riverside, Coniferous Forest, Hills

What to do:

Aquaparks, Golf, Natural Parks & Reserves, Casinos, Horse Riding, Historical & Architectural Monuments, Amusement Parks, Hiking, Caves, Shopping, Hippodrome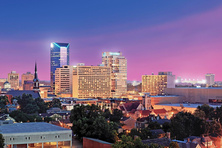 Kentucky is an American state in the east of the country. An administrative centre is the city of Frankfort. The largest cities are Louisville, Owensboro, Lexington and Bowling Green.
The lovers of the excursion tourism and city entertainments choose this place. In Frankfort, the tourists will see the architecture of the 19th century built from Italian brick. The major architectural sight is Kentucky State Capitol.
In Louisville, take a walk in the Old Louisville which is an illustrative example of the Victorian architecture. In the city, there are 122 parks where you can walk, go biking or horseback riding. The most popular is Cherokee Park with barbecue pavilions, a playground and amusement rides.
In the reserves of the region, you will find trekking and hiking routes. Those who like speleology can visit a karst Mammoth Cave. Its depth is 300 meters and the length is 580 kilometres. It is part of the Mammoth Cave National Park.
In Kentucky, there is a military base Fort Knox which is a bullion depositary. Its total area is 440 square kilometres.
Make your stay in Kentucky even more interesting and go to the casino, play tennis or golf. Races is a popular entertainment here. Every year, Louisville holds Kentucky Horse Racing Commission. You will learn more about the development of the horseback riding sport in Kentucky Derby Museum.
The tourists with children will have a fun time in Sky Zone Trampoline Park. In Malibu Jack's Family Fun Center, there are go-cart races, labyrinths and escape rooms. Do not go past Russel Sims Aquatic Center.
There are many outlets, malls and markets in this region, so you will have a great shopping experience. In Lexington visit Fayette mall and Greenwood Mall.
Kentucky whiskey or bourbon was created at the end of the 18th century. You will find this drink in a menu of any restaurant. This state is also the place where the first KFC restaurant was opened. There you will try a hallmark dish – roast chicken.