Kea
Resort type:

Beach resort

Landscape:

Mountains, Seacoast, Island, Flora of the Mediterranean

What to do:

Culinary Tourism, Diving & Snorkelling, Historical & Architectural Monuments, Hiking, Shopping, Nightlife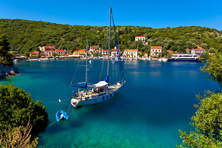 Kea is a Greek island situated in the south of the Aegean Sea. An administrative centre of Kea is the city of Mykonos.
The lovers of beach holidays like to relax on Vourkari Beach, Yaliskari Beach, Korissia Beach, Koundouros Beach, Orkos Beach and Spaffi Beach. Not far from the coast, there are several sunken ships which can be explored by the divers. On the island there is Keadivers Dive Center.
The lovers of the excursion tourism choose a trip to the city of Korissia where they can visit Ergostasio Emagie. Not far from Sklavonikola, the tourists will find the ruins of the towers Panagra and Agia Marina. An excursion to pre-historic settlements Agia Irini and Kefala is also of a great interest.
In Ioulida, you can visit Kea Archaeological Museum and see its interesting expositions.
The tourists can also go hiking around the island.
The malls in Mykonos such as Parthenis Mykonos, Toyland Jumbo Mykonos and Haris Cotton Shop welcome everyone to make purchases. The foodies will surely enjoy the island cuisine in the restaurants Magazes, Odale Restaurant & Pastry and Steki tou Stroggyli. At night, the bar Illusion in Vourkari opens its doors.