Andong
Resort type:

Country resort

Landscape:

Town, Mountains, Plain, Riverside

What to do:

Cycling, Natural Parks & Reserves, Horse Riding, Boat Trips, Hiking, Fishing & Spearfishing, SPA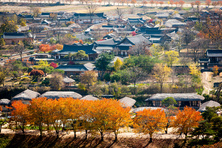 Andong is the largest populated area in a South Korean district Gyeongsangbuk-do. It is situated on the Nakdong River and is considered to be the centre of the Korean culture.
The resort is an ideal place for the excursion tourism. The ethnographic village the Andong Hahoe Folk Village is a UNESCO World Heritage site. The Hahoe Mask Museum is also under UNESCO protection.
Excursions to the historical places in Andong are arranged for the tourists. The tourists will visit religious and education facilities, Buddhist temples and pagodas. The Wollyeongo Bridge offers a fantastic view over the city. The Seonseonghyun Gaeksa and the Andong Gunja Village are the places of historical heritage.
Those who prefer the out-of-town tourism can go to the Buddha Bar cliff by bike or by bus. In the rock, a statue of Buddha is carved. Not far from it is a Buddhist temple with a small park.
The active tourists can spend their time outdoors and walk in the forests and natural parks. There are all the conditions for trekking and hiking, biking, and birds watching. Anyone can have a picnic in a forest. The Welbing Takgu Club offer horseback riding.
Boat trips and canoeing on the Nakdong River are arranged for the tourists. The tourists can also go fishing together with the locals.
Buy the Korean national Hohe masks will be the best reminder of your holidays in Andong. You can go bowling to the Hanyang Bowling. The latest Hollywood and Korean movies are shown in the Lotte Cinema Namwonju. Relax in a spa-center Onaencheong Spa Land.
The restaurant Yujin Jjimdak offers the Asian dishes. Coffee and pastry are offered in the Andong Samsan Store. In the Original Andong Jjimdak, you can try a traditional Korean alcoholic beverage soju. On the territory of the hotels, there are night clubs and discos.