Kingstown
Resort type:

Beach resort

Landscape:

Seacoast, Tropical Forest, Hills

What to do:

Diving & Snorkelling, Natural Parks & Reserves, Boat Trips, Historical & Architectural Monuments, Hiking, Fishing & Spearfishing, Surfing, Windsurfing & Kitesurfing, Nightlife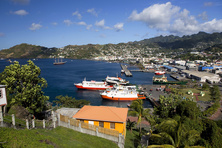 Kingstown is a capital city of an independent Caribbean state Saint Vincent and the Grenadines.
This resort is the main destination for the active tourists who like hiking and water activities. The most popular activities in Kingstown are diving, snorkelling, surfing, windsurfing, kiteboarding, yachting, and kayaking. The tourists can go on a sea cruise or fishing. In Serenity Dive, one can rent diving equipment. Sailor's Wilderness Tours arranges kayaking tours. If you want to escape noise and crowds of people go to Rawacou Recreation Park.
Buccament Forest Nature Trail is the most popular with the tourists. It passes through a beautiful Botanic Garden of Kingstown. In the garden, you will see Caribbean palms and tropical plants. There is also a green house for such flowers as ginger torch and ixora.
Those who prefer the excursion tourism will see Fort Charlotte which still preserved the cannons and other military attributes. We also recommend visiting an old Gothic Saint Mary's Cathedral of the Assumption. The Church is located not far from the downtown and from the architectural point of view it stands out from other buildings in the city. Not far from it, you will find Saint George's Cathedral.
Go to the Kingstown market to buy fresh food and souvenirs.
The Caribbean cuisine is served in Veejas. Flow Wine Bar offers a great range of wines. You will try American dishes in a restaurant Chill'n. Time Out Cafe is an eatery with affordable prices. If you are after the nightlife, then you are welcomed in a night bar Aquatic.