Kingston
Resort type:

Beach resort

Landscape:

Town, Mountains, Seacoast, Tropical Forest

What to do:

Golf, Diving & Snorkelling, Wellness Tourism, Historical & Architectural Monuments, Yachting & Sailing, Rafting & Kayaking, Surfing, Windsurfing & Kitesurfing, Thermal & Mineral Springs, Festivals & Carnivals, Shopping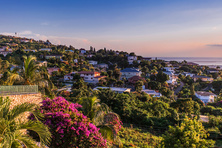 Kingston is a large port on the coast of the Caribbean Sea and a capital of Jamaica. The city is situated in the Liguaniya Valley. To the south of the resort, there is one of the largest natural harbours, Kingston Harbor. Kingston is surrounded by the Red Hills, the Long Mountain and the Blue Mountains.
Well-equipped beaches of the Jamaican capital are popular with the lovers of beach and family holidays. The most popular Kingston's beaches are Hell Wide Beach and Fort Clarence Beach. The active tourists can go diving, windsurfing, yachting, sailing, water skiing and play golf. The southern coast of Kingston is ideal for rafting. Take a sea cruise on a boat with a transparent bottom to explore the underwater world.
The nature of the region attracts the ecological tourists. In the city, eucalyptuses, silk-cotton trees and Caribbean pines grow. In the suburbs of the city, the tourists will see different species of orchids. In some areas, there are mangroves.
If you prefer excursions, you will see some historical and architectural sights. You can also visit the local museums and galleries.
There are many malls in the city which offer good shopping experience.
The restaurants and eateries serve the exotic Jamaican cuisine.