Kirinda
Resort type:

Beach resort

Landscape:

Oceanfront, Tropical Forest

What to do:

Natural Parks & Reserves, Boat Trips, Yachting & Sailing, Hiking, Rafting & Kayaking, Fishing & Spearfishing, Surfing, Windsurfing & Kitesurfing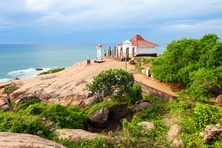 Kirinda is a village in the south of Sri Lanka. It is 10 kilometres away from Tissamaharama and 274 kilometres away from Colombo.
This resort is the main destination for the lovers of beach holidays and water activities. Not far from the village are the reefs of Largemouth Bass and Smallmouth Bass which attract the lovers of diving. The tourists can go sailing, kayaking, yachting, fishing, surfing and kiteboarding. Anyone can go on a sea cruise.
The tourists should not go past a huge statue Viharamaha Devi on the coast. The lovers of ancient things will see a Buddhist temple Kirinda Viharaya which was built in the II century B.C. It stands on the mountain and behind it, you will find a beautiful beach.
A natural beauty of the village and its suburbs are ideal for walking or biking. It is very romantic to watch the whales and dolphins in the sunset. Jeep safaris in Yala National Park are arranged for the lovers of the wild nature. In the park, there is a hotel Cinnamon Wild Yala. The guests of the hotel can swim in a pool and sunbathe on a private beach. On the territory of the hotel, you will see boars and monkeys.
You can go shopping and will have entertainments in neighbouring cities Tissamaharama or Kataragama.
You will enjoy your meals in Mama's Restaurant.