Andros Island
Resort type:

Beach resort

Landscape:

Swamp, Island, Oceanfront, Tropical Forest

What to do:

Cycling, Diving & Snorkelling, Natural Parks & Reserves, Boat Trips, Gliding & Paragliding, Yachting & Sailing, Hiking, Fishing & Spearfishing, Surfing, Windsurfing & Kitesurfing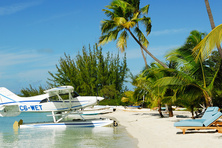 Andros is the largest island in the Bahamas. It occupies the territory of 5.957 square kilometres. Andros is the third largest barrier reef in the world. The capital city of the island is Andros Town. The tourists usually stay in such resort cities as Nicholl's Town and Congo Town.
For the tourists, there are everything and anything for active and water activities such as scuba diving, windsurfing and kiteboarding, boat trips, fishing, and sailing. The most popular beach among the tourists us the Somerset Beach surrounded by fishing villages. One can rent diving equipment at Andros Diving. You can go snorkelling in the Bonefish Doug. At Square Foot Charters, fishing and boat trips are arranged. Rent a yacht at the Reel Tight Charters. The fans of diving prefer to gather at the Great Barrier Reef. Another popular place for diving is the Morgan's Bluff. It was named so after a pirate Morgan, who made many ships sunk. The divers will see those sunken ships. The lovers to spend a lazy time under the sun can do it on a private beach.
There are many hiking and biking routes to across the mangroves. A very popular trekking trail is the Rainbow Blue Hole Trail. The tourists can ride a four wheeler, go hang-gliding, and fly in a hot-air balloon. In the Blue Holes natural park, anyone can have a swim and watch the birds. The best means of transport to reach the place is a bike.
On the territory of the island, there are abandoned pre-Colonial buildings. To see them go to the Pleasant bay. In the capital city of Andros, the tourists will see an old Tourlitis Lighthouse and they can swim with the dolphins on the Somerset Beach. In the city of Red Bay, you can see the descendants of the Seminole tribe. We recommend you pay attention to the souvenirs the locals make to remind you of your journey to this island.
The Hanks Place offers the Caribbean cuisine. You can try conch mussels in a restaurant Lighthouse Hotel and Restaurant.