Kythira
Resort type:

Beach resort

Landscape:

Mountains, Seacoast, Island, Flora of the Mediterranean

What to do:

Diving & Snorkelling, Natural Parks & Reserves, Carting & ATVs, Boat Trips, Historical & Architectural Monuments, Caves, Surfing, Windsurfing & Kitesurfing, Religious Pilgrimage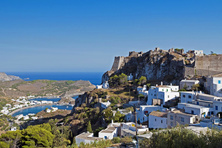 Kythira is a picturesque island in the Aegean Sea. It is one of the Ionian Islands. The island is situated in front of the Peloponnese. The capital city is an ancient city Chora.
The island is an acknowledged centre of the goddess Aphrodite in Greece and it is a popular place for romantic or family holidays. The lovers of the ecological tourism and beach holidays will not get bored.
Kythira is a rocky island and its mountain landscapes admire the ecological tourists. They can see all the natural sights f the island during hiking or 4-wheeler tours. You will surely enjoy the beauty of the only waterfall on the island, Fonisa Waterfall and fantastic compositions from the stalactites in the Cave of Agia Sofia.
A sea resort Kythira is an ideal place for beach holidays. Comfortable child-friendly places are Kapsali Beach, Melidoni Beach, Kaladi Beach and Paleopoli Beach. The active tourists can go diving and snorkelling, water skiing or aqua cycling and boating. Anyone can go on a sea cruise.
Those who prefer the excursion tourism will also like the island where they will see breathtaking ruins of Paliochora with ancient churches and paintings.
A hallmark of Kythira is Kythira Castle built in the 16th century. Its viewing platform opens an amazing view on the island and the sea. If you stay in the capital city, take a walk along the largest stone bridge in the world, Katouni Bridge.
If you like to see religious places and buildings, in Kythira, you will find Monastery of Panagia Myrtidiotissa which is famous for its gold icon.
Learn more about the island by visiting Archaeological Museum of Kythira. Its exposition has the findings, which are over 2.000 years old.