Quito
Resort type:

Country resort

Landscape:

Town, Mountains, Broadleaf Forest, Plain, Riverside, Tropical Forest, Hills, Volcanoes

What to do:

Cycling, Natural Parks & Reserves, Horse Riding, Historical & Architectural Monuments, Hiking, Rafting & Kayaking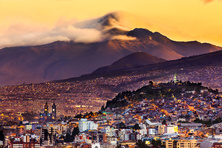 Quito is the capital of Ecuador. This is one of the most beautiful cities on the southern continent and a dream destination for many people. Quito is situated in the northwest of South America in the Andes. It is 2.850 meters above the sea. Quito lies on the eastern slopes of the active Pichincha volcano on the shores of the Guayallabamba River.
Both the fans of the excursion tourism and the lovers of outdoor activities will find what to do in Quito.
You should get acquainted with Quito from its historic centre, the Old City of Quito which is under UNESCO protection. The most popular sights of the city are Carondelet Palace or the official residence of the President and Cathedral of Quito at Plaza Independencia.
Those who love religious buildings will be impressed at a number of the churches in the city. There is Basilica del Voto Nacional, Church of San Francisco, Church of La Compania de Jesus and Church of Santo Domingo.
Those who want to learn more about the city and country should definitely go to the National Museum of Quito, Regional Archaeological Museum, National Numismatic Museum and Museum of Modern Art.
The ecological tourists should not miss a chance to visit Cotopaxi National Park, Pululahua Geobotanical Reserve and Bird Sanctuary Bellavista.
The active tourists can go biking or mountain biking, rafting, kayaking or canoeing and go hiking. Anyone can try horseback riding or feel a rush of adrenaline in adventure parks.