Andes
Resort type:

Country resort

Landscape:

Mountains, Broadleaf Forest, Lakes, Riverside, Mixed Forest, Tropical Forest, Coniferous Forest, Volcanoes

What to do:

Mountaineering, Cycling, Culinary Tourism, Downhill Skiing, Mountain Trails, Wellness Tourism, Historical & Architectural Monuments, Gliding & Paragliding, Hiking, Rafting & Kayaking, Snowboarding, Thermal & Mineral Springs, Festivals & Carnivals, Nightlife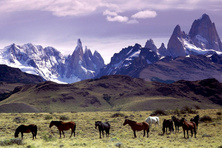 The Andes is one of the highest systems on our planet. Partially, it is situated in the Argentine Republic along the Chile border. The highest peak is the Aconcagua Mountain. In the Andes, there are such large cities as Mendoza, San Juan, Salta, San Martin de los Andes, and San Carlos de Bariloche or Bariloche, for short.
The skiing resorts in the Andes are very popular among the lovers of extreme tourism. Experienced tourists prefer the Las Lenas Ski Resort with the trail over 3.400 meters in height. The skiers and snowboarders with the average skills should choose the Cerro Catedral Ski resort in Bariloche or the Cerro Chapelco Ski Resort in San Martin de los Andes.
In summer the tourists can go hiking, there are many trekking routes. The most adventurous can climb the Agua Negra Pass, try rafting, paragliding, kayaking, biking, and fishing on the San Juan River.
Those who prefer excursion tourism can take a tour and see the major historical and architectural monuments. Among the most interesting sights are the San Jose Church in San Martin de los Andes, the Difunta Correa Shrine in San Juan, City Hall and the Ruins of Saint Francis Church in Mendoza, and the Bariloche Civic Center in San Carlos de Bariloche.
Event tourism is also developed due to the National Grape Harvest Festival and the National Day of the Sun.
A resort Pismanta is a destination of a well-being tourism. The tourists can improve their health and feel a favourable effect of the hot springs.
The ecological tourists should definitely visit the Ischigualasto Provincial park and the Talampaya National Park, both are under UNESCO protection.
The foodies can try the Argentinian cuisine in such restaurants as Thonet, Bodega Lagarde, and La Tasca.
The best night clubs are the Chacras de Coria and Minimoog in Mendoza.