Kopaonik
Resort type:

Ski resort

Landscape:

Mountains, Riverside, Coniferous Forest

What to do:

Downhill Skiing, Mountain Trails, Natural Parks & Reserves, Wellness Tourism, Historical & Architectural Monuments, Gliding & Paragliding, Hiking, Caves, Snowboarding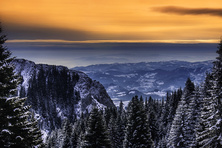 Kopaonik is a skiing resort in Serbia situated 1.700 meters above the sea 290 kilometres to the south of Belgrade.
The total distance of the trails is 60 kilometres and 11 kilometres of trails are good for the beginners; 7 trails are of medium difficulty and 4 are for the professionals. There are 26 chairlifts in Kopaonik including chairlifts for children. The lovers of paragliding and snowboarding also come to this resort. For the beginners, there is a ski school with experienced instructors.
The tourists who come to Kopaonik in summer will enjoy fantastic landscapes. The ecological tourists can visit Kopaonik National Park. The active tourists can go horseback riding, play tennis or basketball, go climbing, hiking in the mountains, to the caves and waterfalls.
Those who prefer the excursion tourism will see such sights of Kopaonik as Zica monastery and Studenica Cathedral, which is inscribed on the UNESCO World Heritage List.
At the foot of the mountains, there is Yoshanichka Bath and Kurshumliyska Bath popular with the wellness tourists.
You will enjoy your meals in such restaurants as Etno Kuca Koliba, Alo-Alo and Komita. In the hotels Grand Hotel & Spa, Hotel Club A, Family Hotel Angella, you will find souvenir shops and bars.