Ancash
Resort type:

Country resort

Landscape:

Mountains, Lakes, Oceanfront, Plain

What to do:

Mountaineering, Natural Parks & Reserves, Horse Riding, Hiking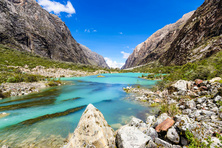 Ancash Region is situated in the central part of Peru. Ancash borders such regions as Lima, Huanuco and La Libertad Region. The western border of the region is washed by the Pacific Ocean. The administrative centre is the city of Huaraz.
In Ancash, the tourists will find a lot of hiking routes and see natural sights of the region. The ecological tourists should definitely visit Huascaran National Park, which is inscribed on the UNESCO World Heritage List. It got its name after the highest peak in Peru – the Huascaran mountain. On the territory of the park, there are several routes of different levels which will suit both professional climbers and the lovers of hiking, trekking, horseback riding.
Ancash region attracts the tourists with its untouched nature, picturesque canyon landscapes, and mountain valleys. There are 663 glaciers, 41 river and 296 lakes in the region. The tourists will see the most beautiful lakes such as the Lyanganuko Lake and the Paron Lake.
Staying in Huascaran, you will have a possibility to get yourself acquainted with the old Indian Chavin culture.
The tourists can buy souvenirs in Huaraz in such shops as Mercado Central and Perutambo.
Enjoy your meals in Chilli Heaven, Trivio and El Porton Gaucho restaurants.
At night, Las Brisas Bar y Parrilla, Tambo Snack Bar and BonusTrack Huaraz Bar open their doors.