Crooked Island
Resort type:

Beach resort

Landscape:

Island, Oceanfront, Tropical Forest

What to do:

Cycling, Diving & Snorkelling, Boat Trips, Historical & Architectural Monuments, Yachting & Sailing, Hiking, Caves, Fishing & Spearfishing, Surfing, Windsurfing & Kitesurfing, SPA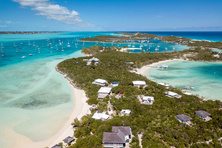 Crooked Island is an island and a region in the Bahamas. Crooked Island together with some other island groups forms the Bight of Acklins, a shallow water lagoon in the Caribbean Sea. The capital city of Crooked Island is Colonel Hill, which is situated in the east of the island.
Those who want to escape the noise and find a quiet place come to this resort. There is everything the tourists may need for scuba diving, surfing, windsurfing, fishing, kayaking, sailing and yachting. Anyone can take a trip to the neighbouring islands by yacht or motor boat.
There are several karst caves on the island and the tourists can explore them. The coral reefs attract the divers. It is believed that the first post office on the Bahamas appeared in a small Pitt's town.
There are hiking and biking routes in the tropical forests on the island. The routes are created by a travel agency of the hotel Tranquility On The Bay Resort. The hotel offers transfer services from the airport Colonel Hill Airport. The hotel has its own beach, a terrace and a beauty parlour.
The guests of the hotel take their meals in a restaurant serving Caribbean cuisine. In the bar, you can treat yourself to various cocktails. In the hotel there is also a souvenir shop.