Kurunegala
Resort type:

City resort

Landscape:

Town, Lakes, Plain, Tropical Forest, Hills

What to do:

Historical & Architectural Monuments, Hiking, Caves, Religious Pilgrimage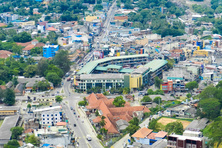 Kurunegala is a city in Sri Lanka and an administrative centre of Kurunegala region and North Western Province. It is 94 kilometres away from Colombo and 42 kilometres away from Kandy.
The major sight of the city is Statue of Sitting Buddha situated on the Ethagala hill. This place is popular not only with the lovers of the excursion tourism, but also with the pilgrims. On the top of the hill, there is a viewing platform, opening a fantastic view on the city.
In the very centre of Kurunegala, there is a beautiful lake. The shores of the lakes are a popular place of rest among the locals.
Visit the suburbs of Kurunegala and you will find a small village Ridigama with a silver temple Ridi Vihara or Patha Viharaya. The latter is situated in a cave under a rock.
Go shopping at a store Selyn. The foodies will try the national cuisine in such restaurants as Saruketha, Hangout by Ransara and Global Family Restaurant. In the hotels Kandyan Reach Hotel, Hotel Kamrel and Littlemore Estate Bungalow, you will find bars.