Antigua Guatemala
Resort type:

City resort

Landscape:

Town, Riverside, Tropical Forest, Volcanoes

What to do:

Ancient Monuments of Civilization, Natural Parks & Reserves, Historical & Architectural Monuments, Caves, Shopping, Nightlife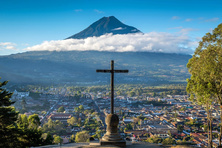 Antigua Guatemala is the capital of Guatemala, situated in the Pancho Valley between Agua, Acatenango and Fuego 45 kilometres to the west from Guatemala city. Since 1979 the city has been on the UNESCO World Heritage List.
The lovers of the excursion tourism choose Antigua Guatemala. The city is rich in historic sights among which are Seven Churches Square, North Acropolis, the ruins of Yaxha and Aquatek Archaeological Center. During a study tour around the city, the tourists will see Captain-Generals Palace, Bat Palace and Palace of the City Council.
Do not miss a chance to take a trip to the holy places of the region. For example, Temple of the Great Jaguar, Temple of the Inscriptions, El Calvario chapel and the Church of Mercy.
If you visit the suburbs of the city, you will see the archaeological site Iximche, Sable Archaeological Park, Todos Santos village. You can also visit such towns as San Juan Comalapa and San-Marcos.
The lovers of ecological tourism and outside activities should definitely go to Yasha-Activities-Naranjo National Park. Quetzal Biosphere park and the caves of the King of Morocco.
The shoppers will buy interesting things at Mercado de Artesanias, La Casa del Algodon and C Santos.
The best restaurants in Antigua Guatemala are Luna de Miel, Pappy's Bbq Antigua and Sobremesa.
If you do not want to spend the night in your hotel room, go to Snug, Red Zebra and Maconda bars.