Khon Kaen
Resort type:

City resort

Landscape:

Town, Lakes, Tropical Forest

What to do:

Aquaparks, Culinary Tourism, Golf, Natural Parks & Reserves, Wellness Tourism, Historical & Architectural Monuments, Amusement Parks, Hiking, Caves, Festivals & Carnivals, Nightlife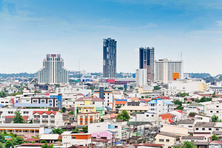 Khon Kaen is a city and an administrative centre of Khon Kaen Province in the northeast of Thailand. It is 380 kilometres away from Bangkok.
The lovers of the excursion tourism should not go past the temples Wat Ahong and Wat Nong Wang.
To learn more about the region, visit such museums as Khon Kaen National Museum, Mahasarakham University Museum and Phu Wiang Dinosaur museum.
The King Cobra Village is 49 kilometres from the city. This village is famous for the fact that there is a huge cobra in each house and the locals make their living by showing cobra shows. A trip to Tortoise Village is also a great interest.
In the villages Ban Phon Phrae and Ban Nong Khuean Chang, you can see how the silk is produced and how people make silk goods.
The ecological tourists should definitely visit Phu Pha Maan National Park and Phu Wiang National Park. The most interesting natural sights of the region are the lake Khong Kut Wai Fish Sanctuary, a rock Pha Sawoei, a cave Tham Khang Khao and a waterfall Khlong Yai Kee.
The lovers of beach holidays choose Bang Saen II and Trang Hua Hin. You can play golf in Singha Park Golf Club and Dancoon Golf Club.
The tourists with children will have a great time in Dino Water Park and Elephant Study Center Surin. Spa centres Dalharuenspaa and Sampeenong the Health House welcome the wellness tourists.
You can buy souvenirs in Khon Kaen's Day & Night Markets, Ton Tann Market, Central Plaza and Wat Sanuan Wari Phatthanaram. The foodies are most welcomed in Pomodoro, Smile@ Waterside and Yang Rabeab Khao Suan Kwang. If it's the nightlife you are after, go to the club U-Bar.