Cat Island
Resort type:

Beach resort

Landscape:

Lakes, Island, Oceanfront, Tropical Forest, Hills

What to do:

Diving & Snorkelling, Boat Trips, Hiking, Fishing & Spearfishing, Festivals & Carnivals, Nightlife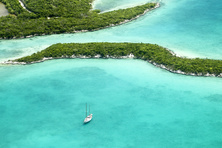 The Cat Island is situated in the central part of the Bahamian Archipelago. The capital city is Arthur's Town. The Cat Island is situated to the south-east of Eleuthera and to the northeast of Long Island.
Picturesque untouched beaches are covered with white and pink sand and attract the lovers of beach holidays and families with children. For the active tourists, there is everything they need for diving, snorkelling, and fishing. There are many interesting tours arranged by such operators as Smiling Pat's Adventures, Top Cats Fishing Service, and Bahamas Catamaran Charter.
The most popular place among the tourists is the Alvernia Mount. If you climb the top of it, it will offer a stunning view. Not far from the Mount, there is Armbrister Plantation.
Take an excursion tour to the village Old Bight and see Church of Saint Francis of Assisi with magnificent engravings, fresco paintings, and sculptures. If you come to the island in June, you can participate in the music festival Rake and Scrape.
Do not go past the best restaurants of the island such as Shannas Cove Resort Restaurant, Mary's Crab Shack, and Triple D's Restaurant & Lounge. In the hotels Tail Winds Resort, Shannas Cove Resort and Pigeon Cay Beach Club you will find souvenir shops. If you do not want to stay in a hotel room at night go to such bars as Cocktails by the Sea and Da Pink Chicken Beach Bar.