Antigua
Resort type:

Beach resort

Landscape:

Cove, Mountains, Seacoast, Island, Oceanfront, Tropical Forest, Hills, Volcanoes

What to do:

Cycling, Culinary Tourism, Diving & Snorkelling, Natural Parks & Reserves, Wellness Tourism, Historical & Architectural Monuments, Gliding & Paragliding, Yachting & Sailing, Rafting & Kayaking, Fishing & Spearfishing, Surfing, Windsurfing & Kitesurfing, Festivals & Carnivals, SPA, Nightlife, Religious Pilgrimage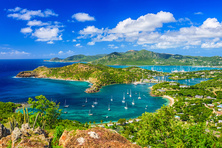 Antigua is an island in the eastern Caribbean Sea, one of the Lesser Antilles, and part of the country of Antigua and Barbuda. The island has an area of 281 sq. km. Antigua's administrative centre and the capital city of the country is Saint John's.
There are about 400 beaches on the island. Those who prefer urban resorts and a well-developed infrastructure will enjoy the coastlines of Dickenson bay and Runaway Bay, northeast of the island. For family holidays, go to the clear Half Moon bay. Surfers and windsurfers have set heart on Galley bay, which in the wintertime, offers extreme waves and wind blasts.
Those seeking for a quiet countryside should consider a deserted, pink sand coastline in southern and south-western Antigua. Local beaches include Fryes bay, Darkwood beach and Johnsons point.
English Harbour is the best option for yachting. Extreme enthusiasts will have an opportunity to go diving and snorkelling, kiting, fishing and spearfishing, paragliding, rafting, sky jumping and cycling.
The island's pristine sceneries and nature reserves attract ecotourism enthusiasts.
While in Antigua, pilgrims will have a chance to visit the island's churches, and excursion enthusiasts can have a vivid experience of visiting historical and architectural landmarks as well as iconic sites preserved to this day. The capital is home to the most popular landmarks: Fort Barrington and Saint John cathedral.
Wellness enthusiasts will be offered to have spa and treatment procedures available from wellness centres that can be found at local hotels.
For culinary holidays, you may wish to make an exotic tour of the island and try some local foods.
A host of concerts and festivals, most of which are held in Saint John's, boost event tourism.
A hot nightlife can be found in bars and clubs that are spread out through the country's capital.