Kyushu
Resort type:

City resort

Landscape:

Mountains, Broadleaf Forest, Seacoast, Island, Riverside, Tropical Forest, Coniferous Forest, Volcanoes

What to do:

Diving & Snorkelling, Natural Parks & Reserves, Wellness Tourism, Historical & Architectural Monuments, Festivals & Carnivals, Shopping, SPA, Nightlife, Oceanariums & Dolphinariums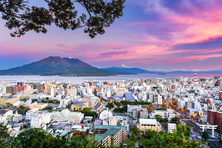 Kyushu is the third largest island in Japan. The eastern part of the island is washed by the East China Sea and the north-eastern part is washed by the Japan Sea. The largest islands on Kyushu are Kumamoto, Naha, Kagoshima, Nagasaki, and Kitakyushu.
The lovers of the excursion tourism will visit Kumamoto Castle Honmaru Palace, Former Hosokawa Mansion, and Yakumo Koizumi Old House. Such museums as Sakuranobaba Josaien, Contemporary Art Museum Kumamoto, and Yokoishonan memorial Museum welcome the tourists. The tourists can also walk in the parks Suizenji Jojuen Garden, Tatsuta Natural Park, and Kitaoka Nature Park. If you prefer active holidays such centres as Kumamon Square, Kumamoto Athletics Stadium, and Aqua Dome Kumamoto open their doors for you. The wellness tourists should not go past the wellness centres Agannasse, Hanamizuki,and Ashiharano Yu. Every year Kumamoto holds Kumamoto's Festival. The malls Sakuranobaba Josaien, Tsuruya Department Store, and Kumamoto Wholesale Market welcome the tourists to make purchases. After shopping, have a meal in the restaurants Katsuretsutei Shinshigai Honten, Korantei Shimotori, and Tengaiten. At night, a bar JIS Kumamoto opens its doors for everyone.
Among the most interesting sights in the city of Naha are Shurijo Castle, Namiboue-gu Shrine, and Syureimon Gate. If you prefer educational programs, visit Tsushimamaru Museum, Tsuboya Pottery Museum, and Naha city Museum of History. In Naha, there is a Naminoue Beach. The divers should go to the clubs Honu Hone Divers, Coconut Okinawa Paradise Club, and South Marine Club. For those who prefer boat tours, there are such centres as Sea World, Blue Zone, and Aqua Date. At D's-Pulse Okinawa, you can swim with dolphins. The tourists with children will have a fun time in Onoyama park and Okinawa Omoro Obake Yashiki. In Naha, you will find spa-centres Churaspa, Esthe de La Main Naha, and Arjyna Heiwadori. If it is the local events you are after, then you have a chance to participate in Naha Giant Tug of War Festival, Okinawa Industrial Festival, and Shuri Castle Festival. In the city of Naha, there are the malls Sakaemachi Arcade, San-A Naha Main Place, Aeon Naha Shopping Center and restaurants Yunangi, Shuri Soba, Ashibiuna. At night, you can have a fun time in the bars Bar Spade and Salsa Caliente.