La Condamine
Resort type:

City resort

Landscape:

Mountains, Seacoast, Flora of the Mediterranean

What to do:

Aquaparks, Natural Parks & Reserves, Boat Trips, Historical & Architectural Monuments, Amusement Parks, Yachting & Sailing, Caves, Festivals & Carnivals, Shopping, Nightlife, Zoos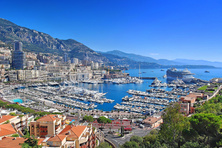 La Condamine is a region in Monaco where the majority of the population live. La Condamine is business centre of the country. On its territory, there is a large Hercules Port.
You should start your trip from Port de la Condamine Embankment. The tourists can visit a fair, amusement parks and a pool. You can have a meal in eateries and restaurants. Everyone can go on a sea cruise along the Mediterranean Sea.
In the Old Town of La Condamine, you will see such architectural monuments as Sainte-Devote Chapel built in the 12th century. Not far from it is a Prehistoric Anthropology Museum and Le Nouveau Musee National.
The lovers of nature and active holidays should definitely visit Exotic Garden which is located on the mountain slope. On the territory of a park zone, over 7.000 cactus species grow. Some of them are 6 meters high. The tourists will see a lot of tropical flora, visit amazing flower gardens, grottoes and caves with stalactites.
In a small Zoological Garden, the tourists will see wild animals, exotic birds and dolphins.
In the Princess Caroline Street, you will find a lot of boutiques and malls. On the market Marche La Condamine, you will buy fresh food. The market has been working since 1880 and it is an acknowledged historical sight of this region. The merchants' rows were built as an esplanade and they are decorated with hanging gardens. In the central part of the market, there is a fountain and benches.
The tourists can go to Rainier III Nautical Stadium with a sea water pool, a spring-board and a slide. In winter, the pool becomes a skating rink.
Every year, the lovers of car racing strive to come to the city because it holds a famous Monaco Grand Prix. It starts on the Boulevard Albert ler.
The Italian and French cuisines are served in Huit et Demi. You will try delicious pizza in Bella Vita. Good beer is served in a pub Brasserie de Monaco. MC by Kodera offers the Japanese cuisine. At night, you can entertain yourself in a club Black Legend.