Laamu Atoll
Resort type:

Beach resort

Landscape:

Atoll, Oceanfront, Tropical Forest

What to do:

Culinary Tourism, Diving & Snorkelling, Wellness Tourism, Gliding & Paragliding, Yachting & Sailing, Hiking, Fishing & Spearfishing, Surfing, Windsurfing & Kitesurfing, SPA, Nightlife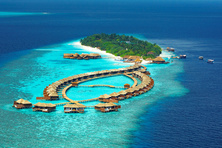 Laamu Atoll or Haddunmati is a group of 82 islands in the Indian Ocean. which forms an administrative unit of the Central Maldives. The major island is the Fonadhoo Island.
Holidays on Laamu attract the lovers of exotic beach resorts. Out of all islands only 12 are inhabited. The largest islands are the Gan island and Fonadhoo island. The coastal areas of the atoll are famous for its clean waters and white sand.
A resort Six Senses Laamu can boast of a well-developed touristic infrastructure with its bungalows and small villas. This place is good both for families and the youth.
Thanks to big waves, the fans of surfing choose the Kunahandhoo Island and Hithadhoo Island situated in the southernmost tip.
Divers and lovers of snorkelling should go to the south-eastern part of Laamu known for its shallow reefs. Deep lagoons in the west of the atoll are popular with the experienced divers.
The resorts of the atoll offer a lot of activities for the extreme tourists such as kiting, yachting, sailing, paragliding, sea fishing, water skiing and scootering.
The ecological tourists can go on a trip to the uninhabited islands of the atoll. They can also go hiking in the virgin forests on the largest islands.
Moderate climate, unspoiled ecology and abundance of seafood rich in microelements attract the wellness tourists. Spa hotels on the island offer revitalising spa treatments. Therapists are also at your service.
The tourists can go on an excursion tour to see the ancient Buddhist monasteries on the Dhanbidhoo island and the Mundoo Island.
The restaurants in hotels offer the national cuisine and at night, you can go to a disco or a bar.