Labuan
Resort type:

Beach resort

Landscape:

Seacoast, Island, Tropical Forest

What to do:

Cycling, Diving & Snorkelling, Natural Parks & Reserves, Boat Trips, Surfing, Windsurfing & Kitesurfing, Festivals & Carnivals, Shopping, Nightlife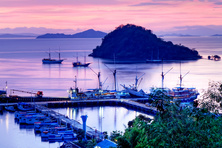 Labuan is a Malaysian federative territory which consists of 7 islands. Bandar Labuan is an administrative centre of the region and it is situated on the largest island of the Labuan Island.
Labuan offers beach holidays and excursions. A popular beach of the region is Layang-layangan. Pancur Hitam and Batu Manikar are also popular with the tourists. These beaches have a blue flag which proves the cleanliness and ecologically favourable situation of these places. Among the water activities are yachting, snorkelling, windsurfing, scootering, water skiing and riding of catamarans. In Komodo Dive Centre, you can rent diving equipment. Near the island Pulau Besar, the divers can see the ruins of a sunken Australian ship.
Labuan is the largest Asian offshore and a centre of the business tourism. In the capital city of the region, there is an International Financial Centre with 65 foreign banks.
To commemorated the tragic events which took place in Labuan, War Memorial park was built. The tourists can also visit Labuan War Cemetry and Japanese Surrender Park.
In the past, Labuan was a large coal mining centre. The Chimney is the only remaining sight.
All the main celebrations and festivals of the region take place at the Labuan Square. The architectural hallmark is Labuan Clock Tower.
Marine Museum occupies the building of International Sea Sport Complex. In the museum, you will get yourself acquainted with the sea and ocean animals, see reptiles, animal plankton, seals, snails, sea plants, algae. Among the exhibits are the ruins of sunken ships. There is also an exposition of graphic art works.
In Labuan Bird Park, you can watch exotic birds. In the park, there are hiking and biking routes.
Financial Park is the largest duty-free zone in Labuan. The tourists can go shopping at Parkson @ Financial Park Labuan Complex. If you are looking for night entertainments, go to a club Popin.
Malaysian and Chinese cuisines are served in a restaurant Anjung Ketam. Restoran Terumbu Warisan offers the Mediterranean cuisine.