Lampang
Resort type:

City resort

Landscape:

Town, Riverside, Tropical Forest

What to do:

Natural Parks & Reserves, Wellness Tourism, Historical & Architectural Monuments, Shopping, SPA, Nightlife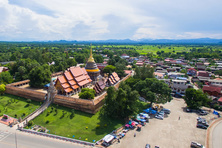 Lampang is an administrative centre of Lampang Province, situated in the north of Thailand. The resort was built in the valley of the Wang River between the cities Khuntan and Pi-Pan-Num.
The excursion tourists prefer to go on an excursion tour around the city during which they will visit Wat Phra Kao Tao Dong Temple, Wat Chai Mongkhon Temple, Wat Phra That Chom Ping Temple, Wat Don Kaeo Temple and Wat Phra Kaeo Don Tao Temple.
Those who prefer t]educational programs can go to Bhumi Lakhon Museum and Dhanabadee Ceramic Museum.
The ecological tourists will enjoy a trip to Tham Pha Thai National Park, Wiang Ko Sai National Park, Chae Son National Park and Thai Elephant Conservation Center.
Not far from Lampang, there is Hug You Sheep Farm where the tourists can feed the sheep, watch the process of shearing and try drinks on the base of sheep milk.
The wellness tourists can visit such spa centres and Lampang Herbal Conservation, Nera Spaya and Sopittha Spa & Massage.
The tourists can buy souvenirs in the shops Indra Ceramics Outlets, Indra Ceramic Shop or at the markets Thung Kwian Market and Kad Kong Ta Street Market. The restaurants Aroy One Baht, Mukda Kanom Jeen Lom Kao and Sabiang serve traditional Thai cuisine. At night, Good Beer 52 Lampang, Zigg Bar and Sheryle's Restaurant & Bar — Chiang Mai open their doors.