Leidschendam
Resort type:

City resort

Landscape:

Town, Seacoast

What to do:

Culinary Tourism, Natural Parks & Reserves, Wellness Tourism, Historical & Architectural Monuments, Gliding & Paragliding, Hiking, Rafting & Kayaking, Festivals & Carnivals, Shopping, SPA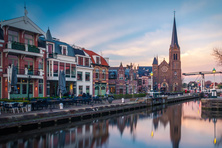 Leidschendam is a city in Leidschendam-Voorburg Municipality in South Holland Province. It is situated in the south-west of the Netherlands not far from the North Sea. It is 10 kilometres away from Hague and 23 kilometres away from Rotterdam. Its total area is over 8 square kilometres.
Its calm and noise free atmosphere attracts the ecological tourists. Holidays in Leidschendam will give you a chance to escape the noise of large cities and enjoy the nature. During a tour around the province, the tourists can visit Rotterdam Zoo and Palace garden in Hague. Excursions to De Biesboch National Park are also very popular with the tourists. On the territory of the park, there are many rivers and streams, willow groves, meadows, swamps.
You will not find any significant historical or architectural monuments in the city. However, if excursions are an important part for you, you can go on a tour around the province and see such UNESCO sites as Mill Network at Kinderdijk-Elshout and Van Nelle Factory. The Frontiers of the Roman Empire and New Dutch Waterline also have significant cultural and historical value. These are UNESCO candidate sites.
The foodies should definitely visit the restaurants serving the Dutch cuisine such as Waterfront Vlietland and Pannenkoe Liedschendam.
Such events as Huygens Festival and Puur Festival are very popular with the tourists.
The wellness tourists can visit Klassieke Homeopathy Ada Spa and have toning spa treatments.
You will have a great shopping experience in a mall Winkelcentrum Leidsenhage. At night, you can go to clubs Amsterdam Arena and Mencave.
Make your holidays unforgettable and try your hand at rafting, parachuting or paragliding.