Lemnos
Resort type:

Beach resort

Landscape:

Mountains, Seacoast, Island, Flora of the Mediterranean

What to do:

Culinary Tourism, Diving & Snorkelling, Natural Parks & Reserves, Wellness Tourism, Historical & Architectural Monuments, Gliding & Paragliding, Yachting & Sailing, Surfing, Windsurfing & Kitesurfing, Thermal & Mineral Springs, Festivals & Carnivals, Shopping, SPA, Nightlife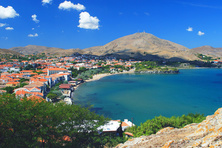 Lemnos is a Greek island of a volcanic origin. It belongs to the Northeast Aegean Islands. It is situated in the northern part of the Aegean Sea 150 kilometres away from the continent. The total land area is 477 square kilometres. There are about 30 cities on the island, including the capital Myrina.
The main type of holidays on the island is beach holidays. Warm and clear waters are ideal for swimming or snorkelling. The extreme tourists can try their hand at yachting, kiting, parasailing, sailing and windsurfing. You can also have private lessons with a diving instructor and explore the underwater world. The best beaches are Platy Beach, Romaikos Yialos Beach and Avlonas Beach. In the central part of the island, there is everything you may need for trekking, paragliding, rope jumping, parachuting and hang-gliding.
The wellness tourists will feel a favourable effect of spa treatments based on the local hot springs. The baths are situated on the Beach of Agios Haralambos.
For a good shopping, go to the downtown of Myrina with numerous shops. The nightlife vibrates in such clubs as Blue Waters, Juke Box and Kinky. The restaurants Manos, Sto Kastro and Terrain serve the dishes inspired by the Greek cuisine.
Such annual events as Reborn Festival and Lemnos Festival attract a lot of tourists.
Unforgettable marine landscapes and exotic nature of Lemnos make it a popular destination for the ecological tourism. The tourists have a chance to explore the underwater ecosystems of the Moudhors Bay and Bournia Bay. Sea cruises around the island are also very popular with the tourists.
A trip to Lemnos, the island of legends and myths will not be a disappointment for the lovers of the excursion tourism. During an excursion tour to the historical and architectural monuments, you will experience the atmosphere of Ancient Greece. The main local sights are Archaeological Museum of Lemnos and Kotsinas Fortress.