Leros
Resort type:

Beach resort

Landscape:

Mountains, Seacoast, Island, Flora of the Mediterranean

What to do:

Cycling, Culinary Tourism, Diving & Snorkelling, Natural Parks & Reserves, Horse Riding, Boat Trips, Wellness Tourism, Historical & Architectural Monuments, Gliding & Paragliding, Yachting & Sailing, Hiking, Fishing & Spearfishing, Surfing, Windsurfing & Kitesurfing, Shopping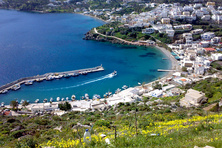 Leros is a Greek island in the Aegean Sea, located between the Kalymnos Island and the Patmos Island 317 kilometres way from Athens. It is part of the Dodecanese Archipelago. Its total area is 53 square kilometres.
The coastline extends 71 kilometres and is very popular with the lovers of beach holidays. Small cozy bays of the island are ideal for calm holidays, swimming and snorkelling. Those who prefer extreme tourism can try their hand at kiting, parasailing, sea fishing, yachting and windsurfing. You can also go diving and explore the rocky bottom. Group biking tours, paragliding, hiking, horseback riding are also popular with the tourists.
On Leros, you can not only relax and replenish your vital energy, but also get yourself acquainted with interesting historical and architectural monuments. During an excursion tour, you will see such sights as Castle of Panagia, Virgin of Panteli Castle and Chapel of Saint Isidore. The tourists can go on an exciting sea cruise around Leros and visit the neighbouring islands.
Lush vegetation and picturesque sea landscapes make this resort a popular destination for the ecological tourism. The tourists can explore the ecological systems and the animals of the underwater world, go hiking, watch the birds or see tamarisk bushes.
Such annual events as Wine Festival and Alindia Festival attract a lot of tourists to Leros.
If you stay in the capital city Agia Marina, you can go shopping to a small market. At night, people usually gather in bars and discos in the local hotels.
Sea air and favourable ecological situation have a positive effect on the well-being.
The foodies will try the dishes of the Greek cuisine in such restaurants of Leros as Pirofani, Ostria, Petrino and Panteli Beach.