Appenzell
Resort type:

Country resort

Landscape:

Mountains, Broadleaf Forest, Riverside, Coniferous Forest, Hills

What to do:

Mountaineering, Culinary Tourism, Mountain Trails, Natural Parks & Reserves, Wellness Tourism, Historical & Architectural Monuments, Gliding & Paragliding, Hiking, Snowboarding, Shopping, SPA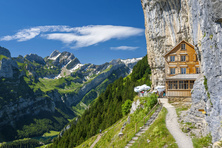 Appenzell is an administrative centre of Appenzell District and Canton of Appenzell Innerrhoden. It is situated on the northeast of the country. The total area of the municipality is about 17 square kilometres. It is 18 kilometres away from Saint Gallen and 215 kilometres away from Bern.
A hilly landscape and a lot of plants and trees attract the lovers of ecological tourism. In Appenzell, you will enjoy a beautiful nature, watch animals, and visit the Beverin Natural Park. One more touristic attraction is the Alpstein Massif close to the city.
Make your holidays even more memorable and try paragliding, go hiking, and climbing. In winter, in the districts Kronberg, Ebenalp-Schwende, and Hoher Kasten anyone can go skiing or snowboarding.
There are excursions to the main historical and architectural monuments. Such sights as Rifugio Asher, Landsgemeindeplatz, and Saint Mauritius Church are must-visit places. Learn more about the canton and visit the Museum Appenzell, the Museum of Appenzell Customs, and the Kunsthalle Ziegelhutte.
Pure air and a favourable climate of the Alpine foothills are beneficial for the health. That is why Appenzell is a good destination for a well-being tourism. In the hotels Lowen and Hecht Appenzell, there are wellness centres where you can enjoy a relaxing massage and spa-treatments.
Go shopping at the mall Shopping Arena in Saint Gallen.
Traditional dishes of the Switzerland cuisine are offered in the restaurants Gass 17, Gasthaus Linde Appenzell, and Cafe Laimbacher.
The nightlife here makes the tourists go to bed early as there are not many night entertainments.