Limon
Resort type:

Beach resort

Landscape:

Town, Mountains, Jungle, Seacoast, Riverside, Tropical Forest, Hills, Cliffs

What to do:

Diving & Snorkelling, Natural Parks & Reserves, Boat Trips, Yachting & Sailing, Hiking, Fishing & Spearfishing, Surfing, Windsurfing & Kitesurfing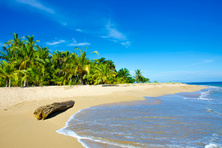 Limon is mainly known as Puerto Limon and it is a city on the east coast of Costa Rica. Every tourist will remember their holidays in Limon. This is the second largest city in the country after San Jose, is an administrative centre of Limon Province and Canton of Limon.
The resort is situated along the shores of the Caribbean Sea. For this reason, Limon is not only a touristic centre, but also the main port in Costa Rica which welcomes cruise ships and commercial vessels. Excellent touristic infrastructure and wide opportunities for diverse holidays for the tourists from all over the world.
Those who prefer calm holidays like to relax on fantastic sandy beaches such as Playa Bonita and Playa Cahuita. The active tourists can try diving, surfing, play beach volleyball, go on a sea cruise and go fishing.
The ecological tourists will be amazed by the number of natural sights in the city and in its suburbs. We recommend visiting Tortuguero National Park, which is a habitat for giant turtles. Cahuita National Park is also an interesting place to visit. It attracts the tourists with its white beaches and fantastic coral reefs. If you like to have a walk in the jungles, visit Veragua Rainforest. You will see an untouched tropical forest with an amazing waterfall.
The tourists have a chance to ride a hot-air balloon, go on a jeeping and rafting on the Tortuguero River.
It is impossible to imagine holidays in Limon without getting acquainted with the history and the culture of the city. The tourists can visit the oldest in the country Limon Ethnohistorical Museum and see its expositions devoted to the everyday life of the Indian tribes.