Arad
Resort type:

Country resort

Landscape:

Town, Desert, Flora of the Mediterranean

What to do:

Culinary Tourism, Natural Parks & Reserves, Wellness Tourism, Historical & Architectural Monuments, Hiking, Safari, Nightlife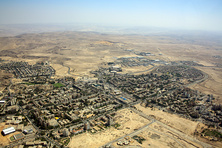 Arad is a city in Israel situated in the mountainous part of the Judean Desert on the south of the country. It is 25 kilometres away from the Dead Sea and 45 kilometres away from Beersheba.
Founded in 1962 Arad has been acknowledged by UNESCO as the most ecologically friendly city in the world. That is why it attracts thousands of ecological tourists. The travellers will explore the desert ecosystem, watch the life of rock rabbits, large porcupines, and Ethiopian hedgehogs. No one will be indifferent to the mountainous landscapes, of course.
Some tourists come to this city to visit the Tel Arad National Park, which is a recognised historical and architectural monument of the pre-historic period. The tourists can visit a famous Masada Fortress and go hiking to the Ein Gedi Nature Reserve.
Anyone can go to the Dead Sea coast and relax on the beaches of the Ein Bokek resort.
Local clinics also attract many tourists who want to improve their health. Mostly, the clinics specialise in skin and joint diseases, airways and nervous system conditions. You can undergo a course of mud application and anti-stress therapy.
Extreme tourists will not be bored in Arad. They can go to jeep safari across the desert, take an exotic tour across the mountain pass, go climbing or fitness training in the hotel gyms.
The tourists can witness such events as the Singer in the Air Festival and the Arad International Chess Festival.
Arad opens wide possibilities for the lovers of city entertainments and shopping. Go to the Arad Mall or Ha-Kokhav Shopping Center, visit one of the three stadiums or go to a cinema.
The foodies will be delighted by the fact that the restaurants offer many international cuisines. In Aroma, Drejat, and Zimmer Mantur, you can try traditional Israeli dishes and Kosher food.
At night, one can go to bars and pubs.