Luang Prabang
Resort type:

Country resort

Landscape:

Town, Mountains, Riverside, Tropical Forest, Hills

What to do:

Cycling, Culinary Tourism, Natural Parks & Reserves, Horse Riding, Historical & Architectural Monuments, Yachting & Sailing, Hiking, Rafting & Kayaking, Shopping, SPA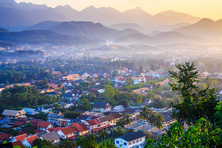 Luang Prabang is and administrative centre of Luang Prabang Province. The town is situated in the north of central Laos and is a UNESCO site.
A picturesque nature attracts to the town the active tourists. They can go hiking and trekking, biking, ride elephants. Among water activities are kayaking and canoeing, rafting, sailing. The tourists can go on a boat trip along the Khan River and the Mekong River. Trekking Laos arranges walking tours to the parks of Luang Prabang. In Banana Boat, they arrange rafting tours. You can rent a bike in Samlaan Cycling.
The most favourite entertainment for the tourists is riding the elephants in Elephant Village Sanctuary. Elephant excursion tours are arranged by White Elephant Adventures.
The main sight is a temple Wat Xieng Thong. It was built in 1560 and it is an example of classical Laos temple architecture. A Buddhist sanctuary Wat Mai Suwannaphumaham has very rich interior decorations. Not far from it is Royal Palace Museum. The tourists should not go past a sacred mountain Mount Phousi. In the suburbs of the town, you will find Nam Elephant Farm and an amazing Kuang Si Falls.
In Luang Prabang Bowling Alley, one can play bowling. Families will have a great time in La Pistoche Swimming Pool and Bar. You can relax in a spa salon Spa by Burasari.
We recommend visiting Luang Prabang Night market and buy hand-made souvenirs. The market has a typical Asian atmosphere. Antiquities are sold in Pathana Boupha Antique House.
The foodies will learn how to cook Laos national dishes in Tamnak Lao Cooking School.
Classical Asian cuisine is served in Manda de Laos. In Pizza Phan Luang, the tourists will try Italian pizza. The Spanish cuisine is offered in La Casa Lao and European dishes are served in Blue Lagoon Restaurant.