Louisiana
Resort type:

City resort

Landscape:

Swamp, Broadleaf Forest, Riverside, Coniferous Forest, Hills, Bay Coast

What to do:

Casinos, Hunting, Historical & Architectural Monuments, Fishing & Spearfishing, Nightlife, Hippodrome, Oceanariums & Dolphinariums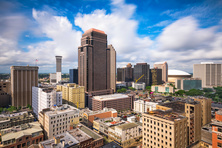 Louisiana is a state in the south of the United States of America. The capital city is Baton Rouge. The largest city of the state is New Orleans. Louisiana borders Texas, Arkansas and Mississippi. On the south, the state is washed by the waters of the Gulf of Mexico. The highest peak in Louisiana is the Driskill Hill.
Million of tourists who prefers excursions and nature visit Louisiana every year.
A trip to New Orleans will be special because the tourists will have a chance to see the old architecture. The main sights in the city are French Quartier, Louisiana Museum and Jackson Square. Anyone can go on a paddle wheeler trip along the Mississippi River.
In Louisiana, you will have a great opportunity to go fishing and hunting.
Baton Rouge was built at the mouth of the Mississippi River. Those who love architecture will surely enjoy seeing the Capitols. If you want to learn more about the city, go to Historical Museum of Baton Rouge.
In the city of Shreveport, you can try your luck in gambling. There are many casinos and a hippodrome.
In large cities of Louisiana, you will find luxurious restaurants, bars and nightclubs.