Ararat
Resort type:

Country resort

Landscape:

Mountains, Valley, Plain, Riverside

What to do:

Mountaineering, Downhill Skiing, Mountain Trails, Natural Parks & Reserves, Wellness Tourism, Gliding & Paragliding, Hiking, Rafting & Kayaking, Snowboarding, Thermal & Mineral Springs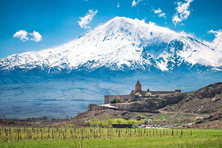 Ararat is an Armenian municipality in the Ararat Province. It is situated 7 kilometres away from the Mount Ararat on the south-west of the country close to the Turkish border. It is 50 kilometres away from Yerevan and 133 kilometres away from Jermuk.
The fertile land of the Ararat Valley and closeness to the sacred mountain make it a centre of ecological tourism. If you stay in the city you should definitely visit the Khosrov Forest State Reserve which is 36 kilometres away from Ararat. Here the tourists can explore the ecosystems of the Azat River and the Khosrov River, watch the Persian leopards, and see around 150 plants listed in the Red Book.
The active tourists will enjoy the trekking trails across the Mount Ararat, rafting or kayaking on the Aras River and the Murat River. If you have guts you can go paragliding, parachuting, hang-gliding, or climbing. In winter, Ararat welcomes all skiers and snowboarders.
The air which is not polluted by industrial facilities and favourable climate are beneficial for the health. It makes Arart a good destination for the well-being tourism. Many people go to the spa resort Jermuk because of its world-famous hot springs.
There are no any significant historical and architectural monuments in Ararat, but the tourists can take a trip to the province to see the main sights. For example, you can see the Ancient Dvin Ruins, the Saint Karapet Monastery, and the Aghjots Vank Monastery. We recommend visiting the house-museum Paruyr Sevak. Excursions to Yerevan are extremely popular among the tourists.
Go shopping at the malls in the capital city such as Yerevan Mall, Tashir, and Dalma Garden Mall.
The best Armenian dishes will be offered in such restaurants as Vinograd, Tsirani Garden, and Anoush.