Luxor
Resort type:

City resort

Landscape:

Town, Desert, Riverside, Tropical Forest, Cliffs

What to do:

Culinary Tourism, Ancient Monuments of Civilization, Carting & ATVs, Boat Trips, Wellness Tourism, Rafting & Kayaking, Safari, Festivals & Carnivals, Shopping, SPA, Nightlife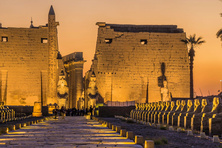 Luxor is a city in Egypt and a centre of Luxor Governorate situated on the shore of the Nile River. In Upper Egypt. It is 300 kilometres away from Hurghada and 650 kilometres away from Cairo. The total area of the city is over 400 square kilometres.
Thanks to numerous monuments of ancient civilizations, the city is one of the world centres of the excursion tourism. Millions of tourists come to Luxor every year to visit Ancient Thebes, an ancient Egyptian city which is acknowledged by UNESCO a masterpiece of human genius and inscribed in the UNESCO World Heritage List. The tourists will also see Karnak Temple Complex, Colossi of Memnon and Luxor Temple. Tours to the Valley of the Kings, to Mortuary Temple of Ramses II, and Hatshepsut's Temple are arranged for the guests of the city.
A picturesque valley of the Nile attracts to Luxor the ecological tourists. During a 4 day cruise to Aswan, you can explore the river and watch its dwellers. Trips to a Nile island Banana are very popular with the tourists.
The extreme tourists can ride a hot-air balloon, go on a desert safari, ride four-wheelers or camels, go rafting or kayaking.
The hotel Hilton has a wellness centre offering toning and relaxing spa treatments. There is also a bath. Many hotels in Luxor offer a course of massage.
The most interesting celebrations or festivals attracting many tourists are African Film Festival and Moulid Abu el-Haggag.
Anyone can go to Al Qoseir beach resort and relax on the coast of the Red Sea.
Do not go past the markets of Luxor.
A restaurant Africa serves the dishes inspired by the Egyptian cuisine.
At night, bars and discos in the hotels open their doors.