Madaba Mount
Resort type:

Country resort

Landscape:

Mountains

What to do:

Culinary Tourism, Wellness Tourism, Historical & Architectural Monuments, Hiking, Safari, Festivals & Carnivals, Religious Pilgrimage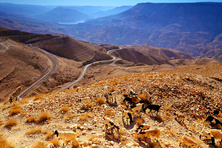 The Madaba Mount or the Mount Nebo is a peak in the north of Jordan 25 kilometres away from the coast of the Dead Sea and 7 kilometres away from Madaba. It belongs to the Mountains of Abarim. The highest peak is 817 meters above the sea.
A legend says that Moses died on this mountain and for this reason, Nebo is the most important place for the pilgrims in Jordan. The tourists can also visit Memorial of Moses and see the ruins of the 4th century church or Byzantine monastery.
Temples of Madaba are also of a great interest. The tourists can go to Head of John Baptist Cathedral and Church of the Prophets.
The lovers of the excursion tourism have a chance to see unique mosaic floors in Madaba Archaeological Park and see the columns of Herod's Palace.
Boating tours along Wadi Mujib Siq Trail, extending to the Dead Sea are arranged for the extreme tourists. The active tourists can go hiking in the suburbs or go on a desert safari and ride the camels.
There are a lot of festivals and celebrations in the city. Music lovers will enjoy Madaba Jazz Festival and the pilgrims should visit Baptist Second Festival.
You should go to Amman to go shopping. It is situated 40 kilometres away from Madaba.
The wellness tourists prefer to spend their time on the coast of the Dead Sea. Everyone knows that the sea has a unique water composition and a healing mud. Balneological treatment is recommended to people with disturbed blood circulation, metabolism, skin and upper respiratory airway diseases, acute forms of allergies.
The foodies should not go past, such restaurants in Madaba as Queen Ayola Restaurant, Haret Jdoudna or Abbey Road, which serve a lot of dishes inspired by the Middle East cuisine.
At night you can go to the bars in some hotels. In Amman, you will find such bars as Byblos, G Club, H2O Pool and Lounge.