Arzni
Resort type:

Country resort

Landscape:

Mountains, Broadleaf Forest, Riverside, Hills

What to do:

Aquaparks, Cycling, Downhill Skiing, Wellness Tourism, Hiking, Caves, Thermal & Mineral Springs, Festivals & Carnivals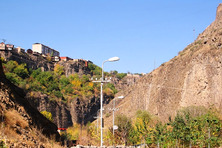 Arzni is a resort in the Kotayk province in Armenia. The city is built high in the mountains on the shore of the Hrazdan River. 23 kilometres to the north from the resort is the capital city of Armenia Yerevan.
The tourists choose Arzni to improve their health and to relax. Favourable climate (mountain air, warm winter and moderately hot summer) is ideal for preventing different illnesses. The Arzni Health Resort specifically offers a mineral water therapy. There are mineral springs right on the territory of the resort. This resort, especially welcomes the people with the diseases of circulatory and gastrointestinal systems. Preventive therapies include preventive treatment of gynaecological conditions, degenerative joint diseases, and musculoskeletal disorders.
Each patient will be offered an individual therapy based on using the mineral water of Arzni. Clay therapy, mud therapy, paraffin wax therapy, acupuncture, therapeutic exercises, Terrainkur, and massage are available for the patients.
Make your holidays more interesting and go play billiards or tennis, swimming or walking. On the territory of the resort, there are playgrounds for kids and cozy garden houses where anyone can have a picnic. The fans of fishing can try and catch a big fish in the Hrazdan. The rocky landscape of Arzni is ideal for hiking, trekking, and biking.
Go shopping at the stores in Yerevan. The youth can have a fun time at night clubs in the capital city.
The restaurant in the hotel offers a buffet dinner.