Mandeville
Resort type:

City resort

Landscape:

Town, Lakes, Tropical Forest

What to do:

Culinary Tourism, Golf, Diving & Snorkelling, Natural Parks & Reserves, Wellness Tourism, Historical & Architectural Monuments, Yachting & Sailing, Hiking, Rafting & Kayaking, Surfing, Windsurfing & Kitesurfing, Thermal & Mineral Springs, Festivals & Carnivals, Shopping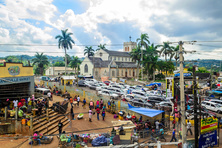 Mandeville is the largest city in Manchester County in the central part of Jamaica which is 20 kilometres away from the coast of the Caribbean Sea. It is 91 kilometres away from Kingston.
The lovers of the excursion tourism will have a chance to get acquainted with interesting historical and architectural monuments of the British Colonial period. You can also take a trip to the capital city of Jamaica, Kingston. The excursion tour includes a visit to Bob Marley Museum, Devon House, National Gallery of Jamaica, and Fort Charles Maritime Museum.
In Mandeville, you can take a walk in the Stephenson's Garden, see Mandeville Courthouse and Cenotaph Memorial, and visit saint Mark's Anglican Church.
A unique and the most radioactive thermal source in the world attracts the lovers of a well-being tourism. The water temperature is +30C° which has a favourable effect on joints and bones.
Those who prefer to relax on the beach, should go to the Caribbean coast in Alligator Pond. They can go windsurfing, kiting, diving, snorkelling, sailing, and yachting.
There is the oldest in the country golf field which belongs to Manchester Club.
In addition to the local festivals and celebrations, such sports events as High Mountain Road Race and Manchester Golf Week attract a lot of tourists.
The extreme tourists will get a rush of adrenaline from rafting and kayaking. The active tourists can go hiking in the suburbs of the city.
The ecological tourists also like to come to Mandeville to see a very beautiful lake Windalco. Tours to Blue Mountains Park are arranged for the tourists.
Manchester Shopping Center, Angel Super Store, and Morrison's Variety Store invite everyone to make purchases.
Traditional Jamaican and Caribbean cuisines are served in Star Grill, La Re TriCa, and Mother's.
The nightlife is not developed here.