Arizona
Resort type:

Country resort

Landscape:

Mountains, Valley, Canyon, Broadleaf Forest, Lakes, Desert, Riverside, Coniferous Forest, Hills, Cliffs

What to do:

Aquaparks, Mountaineering, Downhill Skiing, Natural Parks & Reserves, Casinos, Wellness Tourism, Historical & Architectural Monuments, Gliding & Paragliding, Amusement Parks, Hiking, Caves, Rafting & Kayaking, Safari, Snowboarding, Festivals & Carnivals, Shopping, SPA, Nightlife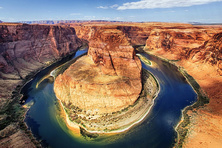 Arizona is the sixth largest state in the USA with the total area of 295.254 square kilometres. It is situated in the south-west of the country and borders Nevada, California, Utah, Mexico, and New Mexico. The capital city is Phoenix.
The ecological tourists choose this state because of its park with untouched nature, rocks and plateaus, valleys, deserts, rivers, and lakes. Helicopter tours over the Grand Canyon, hiking in the Saguaro National Park, and a trip to the Berrindzher Meteor Crater are extremely popular among the tourists.
The lovers of excursions will see the major sights of the state such as the London Bridge, the Tovrea Castle, and the Arizona State Capitol.
Celebrations and festivals regularly take place in the cities of Arizona and they attract thousands of people. The most popular are the Arizona Renaissance Festival and the Ostrich Festival.
Those who prefer city resorts should stay in Phoenix and enjoy fun time in its amusement parks, casinos, water parks, sports centres, and large shopping malls.
The extreme tourists will find in Arizona everything for paragliding, parachuting, and rafting. They can go on safari or take an exotic boat tour. Everyone can go climbing, visit the local caves, and take a four wheeler ride. The Arizona Snowbowl welcomes everyone who is likes skiing and snowboarding.
In Arizona, there are wellness centres where one can relax and improve his or her health.
The foodies will enjoy original dishes in the local restaurants Fuego Bistro, Mission, and Capital Grille. Besides, food tours to neighbouring Mexico are also arranged.
The best night clubs and bars are found in Phoenix. Among them are Sky Lounge, Monarch Theatre, Bar Smith, Crescent Ballroom, and Bikini Lounge.