Marathon
Resort type:

Beach resort

Landscape:

Town, Mountains, Valley, Lakes, Plain, Coniferous Forest, Bay Coast

What to do:

Diving & Snorkelling, Historical & Architectural Monuments, Hiking, Caves, Surfing, Windsurfing & Kitesurfing, Nightlife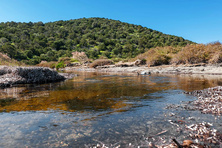 Marathon is an ancient city in Attica situated at the foot of the Pentelikon Mountain in Greece. It is 32 kilometres away from Athens.
5 kilometres away from the resort, there is Schinias Beach surrounded by pines. This place is very popular with the lovers of beach holidays and windsurfing. There is also Marathon bay Diving School, where you can learn the basics of diving.
Not far from Marathon Valley, the tourists will see man-made Marathon Lake. It attracts the ecological tourists. However, be aware that it is prohibited to swim and fish in the lake.
If you prefer excursions, go on an excursion tour. You will see the tombs where the citizens of Athens were buried who fought to protect the city against the Persians. Not far from this place, you will find the Hill of Plataeans where the alleys of the Athenians were buried.
In the Archaeological Museum of Marathon, you will see the objects found on the battle field in Pan Cave and artefacts which belonged to Herod Atticus. In the suburbs of Marathon, there are the ruins of an ancient city of Ramnus with the ruins of the Temple of Nemesis.
The tourists will treat themselves to the national Greek cuisine in such restaurants as O Glaros, Taverna Leonidas and Cavouri.
At night, a club Galazia Akti opens its doors.