Arkaim
Resort type:

Country resort

Landscape:

Plain, Riverside

What to do:

Ancient Monuments of Civilization, Natural Parks & Reserves, Historical & Architectural Monuments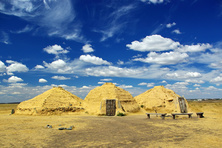 Arkaim is an old settlement situated on the cape at the confluence of the two rivers, the Big Karaganka River and the Utyaganka River. Arkaim is 8 kilometres away from the Amurskiy village in the Bredinsky District and 2 kilometres away from the Aleksandrovskiy village in the Kizilsky District in the Chelyabinsk Region in Russia.
Arkaim with its adjacent territories and a complex of archaeological monuments is part of the Arkaim Museum Reserve.
The excavations showed that Arkaim was founded in the 3d - 2nd B.C. All the buildings are oriented to astronomical objects with great accuracy.
This place will be interesting for all those who likes to study ancient civilisations. There are a lot of legends associated with this settlement and the tourists will learn them during their journey. The tourists come here to try to live in virtually primitive conditions, to get a boost of energy, and even to get rid of diseases.
There are hotels in the cities Breda and Kizilskoe. In souvenir shops, the tourists can buy souvenirs with the images of Arkaim.
The nearest night clubs are in Chelyabinsk. You can go to the clubs Vida Mia and Mirage Night Club.
The best restaurants in Chelyabinsk are Basilio, TurkuaZ Grill House, and D'OR.