Martinique
Resort type:

Beach resort

Landscape:

Seacoast, Island, Plain, Riverside, Tropical Forest, Hills, Volcanoes, Cliffs

What to do:

Aquaparks, Mountaineering, Cycling, Golf, Diving & Snorkelling, Carting & ATVs, Boat Trips, Amusement Parks, Yachting & Sailing, Hiking, Fishing & Spearfishing, Surfing, Windsurfing & Kitesurfing, Shopping, SPA, Nightlife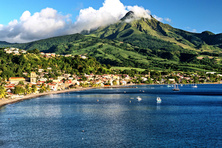 Martinique is a Caribbean island with the total area of 1.128 square kilometres. Its administrative centre is Fort-de-France. Fort-de-France is the largest city on the island and a popular touristic centre.
Martinique attracts the active tourists, those who prefer to stay outside, the lovers of beach holidays and water entertainments. There is the largest on the Caribs active volcano Mont Pelee. Anyone can try and climb it as part of Caribbean Open Tour group. The tourists can ride four-wheelers, can go on ecological tours, hiking, trekking, biking. If you want to have a rush of adrenaline then go canyoning or abseiling. You can rent the equipment in Randonnee et du Canyoning. Take a flight on a small plane belonging to ACF Aviation to see the island from a bird's eye view. In Martinique Quad Explorer, you will rent a 4-wheeler.
There are about 20 beaches in Martinique. The most popular is Les Salines Beach. There is a great range of water activities from kiteboarding, windsurfing, surfing, diving, kayaking and canoeing to sea cruises, sailing or deep underwater fishing. The surfers prefer Anse Couleuvre beach. You can rent diving equipment in Alpha Plongee Martinique. Kayaking tours are organized in Madinina Kayaks.
Martinique is a birthplace of Josephine de Beauharnais, the first wife of Napoleon. You can find her house which is Musee de la Pagerie now. The most interesting exhibit item is a marriage contract between Josephine and Napoleon Bonaparte.
Go shopping to a mall Galleria Commercial Center in the city of Le Lamentin. On the market Marche Aux Poissons, you will find unusual souvenirs and fresh food.
You can also play golf or tennis, have a fun time in the amusement park Mangofil Martinique or aqua park Aqwaland. For kids, there is a playing room Acro'Kids. Relax after a hard day in a spa complex Eden Paradise.
The Le Mabouya restaurant serves the dishes of the French and Creole cuisine. The Caribbean cuisine is served in Case Coco Restaurant. You will enjoy the Italian dishes in Il Gallo Rosso. At night, you can go to a club Le Zinc du Nord.