Massachusetts
Resort type:

Country resort

Landscape:

Mountains, Valley, Broadleaf Forest, Lakes, Oceanfront, Riverside, Mixed Forest, Coniferous Forest, Hills, Bay Coast

What to do:

Culinary Tourism, Diving & Snorkelling, Wellness Tourism, Historical & Architectural Monuments, Gliding & Paragliding, Yachting & Sailing, Hiking, Sport Tourism, Surfing, Windsurfing & Kitesurfing, Festivals & Carnivals, Nightlife, Religious Pilgrimage, Zoos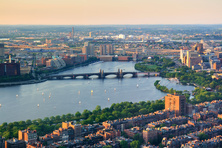 Massachusetts is a state in the northeast of the United States of America. It is washed by the waters of the Atlantic Ocean. It borders New Hampshire State, Vermont, New York, Connecticut and Rhode Island. The capital city of Massachusetts is Boston. The largest cities are Plymouth, Gloucester, Worchester, Cambridge, Lowell and Springfield.
On the coast of Massachusetts, there is the Massachusetts Bay, the Cape Cod Bay, the Buzzards Bay, and the Narragansett Bay. In the west of the state, you will find the Berkshire Mountain Range and the Taconic Mountain Range. The highest peak is the Greylock Mount. To the south of Cape Cod, there is Nantucket island and Martha's Vineyard island.
Thanks to its natural diversity, Massachusetts is the main destination for the ecological tourists. In the Berkshire Hills, the tourists will see the Bash Bish Falls. If you stay in Stockbridge, you can visit Berkshire Botanical Gardens.
Those who prefer the excursion tourism, should go to Boston. There is a hiking Route of Freedom running through the city with the main historical sights.
Boston regularly holds various festivals attracting a lot of tourists.
If you stay in Plymouth, you will find there a lot of museums telling you about the first settlers of the state and about its development.
Martha's Vineyard attracts the fans of sports activities.
If you prefer beach holidays and such water activities as surfing or windsurfing, you should go to the Atlantic coast.
The restaurants and eateries of the state offer the best dishes of the international cuisine.
The centre of the night entertainments is Boston and other large cities.