Matarushka Banya
Resort type:

Country resort

Landscape:

Mountains, Valley, Broadleaf Forest, Riverside, Coniferous Forest

What to do:

Wellness Tourism, Fishing & Spearfishing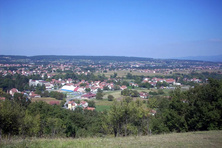 Matarushka Banya is a popular balneological resort in Serbia situated in a picturesque valley of the Iber River 8 kilometres to the south from the city of Kraljevo. This resort is surrounded by coniferous and beech woods, a green belt where there are spa resorts or health centres.
Hot springs help to prevent and treat rheumatisms, skin diseases, neurological conditions, infertility, post-traumatic conditions.
The tourists can walk in the parks situated on the shore of the Iber River. They can sunbathe on the beach, go boating or fishing.
Not far from Matarushka Banya, you will find many natural and historical objects such as Zica Monastery built in the 13th century. Take a trip to the city of Maglic to see mysterious towers. Today they serve as decorations for the knight tournaments. In Kraljevo, you will see the architectural monuments of the 19th century.
In souvenir shops, you will find pretty things with the views of Matarushka Banya.
The restaurants Lepi Boro and Kraljevo, you will try traditional Serbian dishes.