Mahale Mountain National Park
Resort type:

Country resort

Landscape:

Mountains, Jungle, Lakes, Savanna, Tropical Forest

What to do:

Culinary Tourism, Mountain Trails, Natural Parks & Reserves, Wellness Tourism, Historical & Architectural Monuments, Hiking, Rafting & Kayaking, Fishing & Spearfishing, Shopping, SPA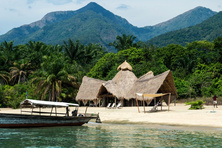 Mahale Mountain National Park is a national park with the total area of over 1.600 square kilometres situated in the west of the United Republic of Tanzania in Kigoma Region. The park is situated in the eastern part of the Tanganyika Lake.
This unique nature reserve is one of the most popular centre of the ecological tourism in the country. The tourists who come to Mahale Mountain National Park can explore the main climatic zones of the reserve such as the jungles, miombo woodlands and savannah. An interesting natural sight is Mahali Mountains and Nkungwe Mountain is the highest peak.
Exotic tours are arranged for the lovers of the extreme tourism who can watch chimpanzee in their natural habitat. The active tourists can go kayaking, rafting and fishing on the Tanganyika Lake or go hiking in the Mahali Mountains.
The lovers of the excursions prefer to stay in Kigoma. There, they can enjoy the Kigoma Bay or walk along Bangwe Beach. There are excursion tours around the region for those who want to see historical and architectural monuments. We recommend visiting Livingstone Memorial Museum in Kigoma, Sukuma Museum in Bujora village and Gaddafi Mosque in Dodoma.
In the hotels, situated not far from Mahale, there are small shops where you can buy souvenirs and some other goods. You will have a greater shopping experience in such malls in Kigoma as Sido and Mwanga Market.
In the hotels and on the Tanganyika Lake, there are wellness centres offering toning spa treatments or  massage.
In the hotel restaurants, you will try traditional Tanzanian dishes. The restaurants in Mwanza serve the African, Italian, Chinese and international cuisines. The best restaurants are Malaika and Tunza Lodge.
There is no nightlife in the park.