Medina
Resort type:

City resort

Landscape:

Town, Desert, Tropical Forest

What to do:

Culinary Tourism, Natural Parks & Reserves, Historical & Architectural Monuments, Religious Pilgrimage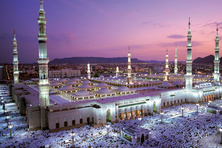 Medina is one of the oldest cities in the world, situated in the west of Saudi Arabia. It belongs to Hijaz Region and Al Madinah Province. The total area of the municipality is about 600 square kilometres. It is 430 kilometres away from Mecca.
Due to the fact that Islam was first adopted here, Medina is believed to be a sacred place and the second most important centre of pilgrimage for the Muslims in the world. If you are staying in Medina, be aware that non-Muslims are prohibited entering the central part of the city.
In Medina, there are such holy shrines as the first mosque in human history Masjid Quba and Prophet's Mosque built in 662. There are about 100 mosques in the city and its suburbs.
The lovers of the excursion tourism will have a chance to get themselves acquainted with the historical or architectural monuments in the regions open to non-Muslims and on the outskirts.
You will not find in the city goods other than religious souvenirs. To have a good shopping, you should go to Jeddah and visit such malls as Jeddah Mall, Red Sea Mall or  Tahlia Roshana Center.
If it is beach holidays you are after, go to Jeddah and relax on Silver Sands Beach at the Red Sea. The extreme tourists can try their hand at kiting, diving, windsurfing, sailing and yachting. They can also go climbing in the Hijaz Mountains. Safari in the Tihamah Desert is arranged for the active tourists.
The ecological tourists can go to the suburban areas of Medina to explore the local ecological system and watch the animals. The tours to Al Khanafah Wildlife Reserve are arranged for the tourists.
If you like to participate in the local events, you should plan your holidays when the city holds Milad al-Nabi, Eid ul-Fitr and Eid al-Adha.
Halal dishes are served in Muttam Ravi restaurant. The Pakistani cuisine is served in Madina Munawarra. The best pizza is cooked in Brost Express.
There is no nightlife in the city.