Mae Hong Son
Resort type:

Country resort

Landscape:

Town, Mountains, Jungle, Lakes, Riverside, Tropical Forest

What to do:

Culinary Tourism, Natural Parks & Reserves, Wellness Tourism, Historical & Architectural Monuments, Gliding & Paragliding, Hiking, Caves, Fishing & Spearfishing, Thermal & Mineral Springs, Festivals & Carnivals, Nightlife, Zoos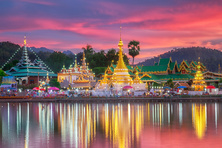 Mae Hong Son is a city and an administrative centre of the Province of Mae Hong Son. It is situated close to the border with Burma on the shore of the Pai River in the northwest of the country.
A fantastic nature of its suburbs and closeness to Namtok Mae Surin reserve makes it a good destination for the ecological tourists. The lovers of nature will enjoy Pam Bok Waterfall and Pangong Lake, they can take a walk along the Pai River, go on a tour to such national parks as Salawin, Mae Ngao or Namtok Mae Surin. Do not go past Tham Pla Forest park.
Staying in Mae Hog Son, the wellness tourists will feel a favourable effect on their health from Pha Bong thermal sources. They are situated 15 kilometres away from the city. Poo Klon Country Club specializes in healing muds. The tourists will feel a positive effect of yoga in Mam Yoga Center.
If you prefer the excursion tourism, in Mae Hong Son, excursion tours to the historical and architectural monuments are arranged. The most interesting places are such temples as Wat Kam Ko, Wat Chong Kham, Wat Muo Taw and Wat Hua Wiang. If you want to learn more about the city, visit Wat Jong Klang museum or go to the villages of mountain tribes.
There is a wide choice of activities for the extreme tourists from trekking and canyoning to paragliding or parachuting. The tourists can also explore the Fish Cave or go fishing in Piranha Fishing Park. You can also try your hand at the Thai boxing in Charn Chai Muay Thai.
The majority of the local celebrations and festivals have a religious character. The annual Buddhist ceremony of countering orders for boys which takes place as part of Poi Sang Long festival, attracts a lot of tourists.
Treat yourself to the dishes of Thai cuisine in Salween River, N&J's Kitchen and Charlie & Lek.
At night, bars open their doors. The most popular are Bebop and Jikko.