Mecca
Resort type:

City resort

Landscape:

Town, Mountains, Valley, Desert, Tropical Forest

What to do:

Mountaineering, Culinary Tourism, Natural Parks & Reserves, Historical & Architectural Monuments, Yachting & Sailing, Safari, Surfing, Windsurfing & Kitesurfing, Shopping, Religious Pilgrimage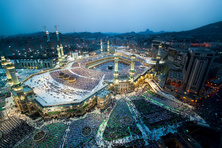 Mecca is a city and an administrative centre of Makkah Province in Hijaz Region situated in the west of Saudi Arabia. The total area of the municipality is 400 square kilometres. It is 430 kilometres away from Medina.
The city is the main pilgrimage centre for the Muslims. However, the tourists must be aware that non-Muslims are prohibited entering the territory. In the municipality, there are such important religious objects as Al Haram, Abraj Al-Bait Towers and a sacred stone Kaaba.
Those who prefer the excursion tourism will have a chance to get acquainted with the local historical and architectural monuments. The tourists can go on a study tour to Jeddah the architectural complex of which is inscribed on the UNESCO World Heritage List.
If it is beach holidays you are after, go to Jeddah and relax on Silver Sands Beach at the Red Sea. The extreme tourists can try their hand at kiting, diving, windsurfing, sailing and yachting. They can also go climbing in the Hijaz Mountains. Safari in the Tihamah Desert is arranged for the active tourists.
In the suburban areas of Mecca, you will find such shopping centres as Makkah Mall and Al Diyafa Mall. Red Sea Mall, Jeddah Mall or Tahlia Roshana Center in Jeddah offer a wide variety of goods.
The ecological tourists will have a chance to explore the desert ecological system and watch the animals living in this area. They can also visit one of the largest reserves in the country Al Khanafah Reserve.
The event tourism is developed thanks to Muslim celebrations, for example, Day of Ashura and Prophet's Birthday.
The foodies will surely enjoy their meals in the restaurants Al Bayat, Al Tajaz, and Al Deyafa. Al Shorfa restaurant serves Egyptian cuisine. We also recommend you visit a French restaurant Afandim.
There is no nightlife in Mecca, but you can go to the clubs in Jeddah, for example, Jeddavii's Boyz & Girlz and Durra Al-uroos.