Armavir
Resort type:

City resort

Landscape:

Town, Mountains, Riverside

What to do:

Aquaparks, Wellness Tourism, Historical & Architectural Monuments, Hiking, Festivals & Carnivals, Nightlife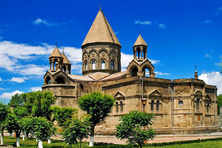 Armavir is a town in the south-western part of the Republic of Armenia and the administrative centre of the Armavir Province, located in the Ararat Valley at the southern foot of Mount Aragats. The town is situated 45 km from Yerevan and 32 km from Arteni.
As having a rich history, the city is one of the most popular destinations for excursion tourism. While on holidays in Armavir, visitors can explore the monuments of early civilisations at the Metsamor archeological site, Armavir archeological site and Yervandashat archeological site. The Sardarapat Memorial and Museum is worth special attention. Anybody who wants to can make a guided tour of Yerevan where one can see the Saint Gregory the Illuminator Cathedral, the Blue Mosque and the Katoghike Chapel.
Ararat's natural surroundings and fascinating mountain sceneries are attractive for eco holidays in Armavir. Visitors to the region will have an opportunity to hike through the countryside or take out a time for gathering mountain herbs. Vacationers are offered to make an exotic tour of the Khosrov Forest State Reserve located 100 km from the town, or a journey to the famous Lake Sevan.
For shopping, Armavir has Isahakyan Center; to shop more, go to Dalma Garden Mall, Tashir, Yerevan Mall and Surmalu in Yerevan.
Armavir offers a host of things to do for extreme tourists. Mountaineering and rock climbing, cycling and trekking, paragliding, hang gliding and sky jumping are available to outdoor adventurers. Those who want to can try themselves in horseracing.
With the Multinational Armavir Festival held annually, event tourism is more and more popular there.
Famous for their mineral springs, the resorts of Arevik and Hankavan are located about 100 km from Armavir. When visiting the region's spa centres, wellness enthusiasts can benefit from the curative effect that local springs have.
In Jrahars and Karmir Kamurj, culinary tourists will be offered to try Armenian dishes.